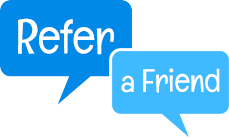 It's Not Bragging If You Say It For Us
We're proud of our A+ rating from the BBB (and, an Integrity Award.). We consistently earn high marks from sites like Angie's List, and have hundreds of positive reviews from customers, like you.
But what really reassures a potential customer, is for them to hear how much you liked our work.
Someone they already know, like and trust.
It's really helpful to have the recommendation of a friend. It saves them the time of searching for reputable vendors and the aggravation of hiring one that might be less-than-great. And now, it saves them money, too.
How Does It Work?
If someone you send our way books a project with us, we'll take $100 off their project.
Not only that, but we'll also send some appreciation your way, too. When their project is complete, we'll send you $50! Or, if you want to book another job with Midwest, we'll triple your bonus and apply $150 towards your project.
At Midwest Foundation Repair, we're honored to be the contractor of choice for so many homeowners throughout Central Iowa. If you had a remarkable experience with us, we'd love for you to recommend our services to your friends, family and neighbors.
Complete the form on this page and we'll get in touch with them. Or, make sure they say, "I've been referred to Thrasher by a friend" so they can receive their bonus and you receive yours.